Best Mouthwashes For Bad Breath

There are a variety of mouthwashes available on the market, and each has its own set of benefits.

We have covered eight distinct kinds of mouthwash that are available to combat bad breath. It is essential that you choose the one for your requirements.

Your daily life can be negatively impacted by having bad breath, which is why finding a solution is essential.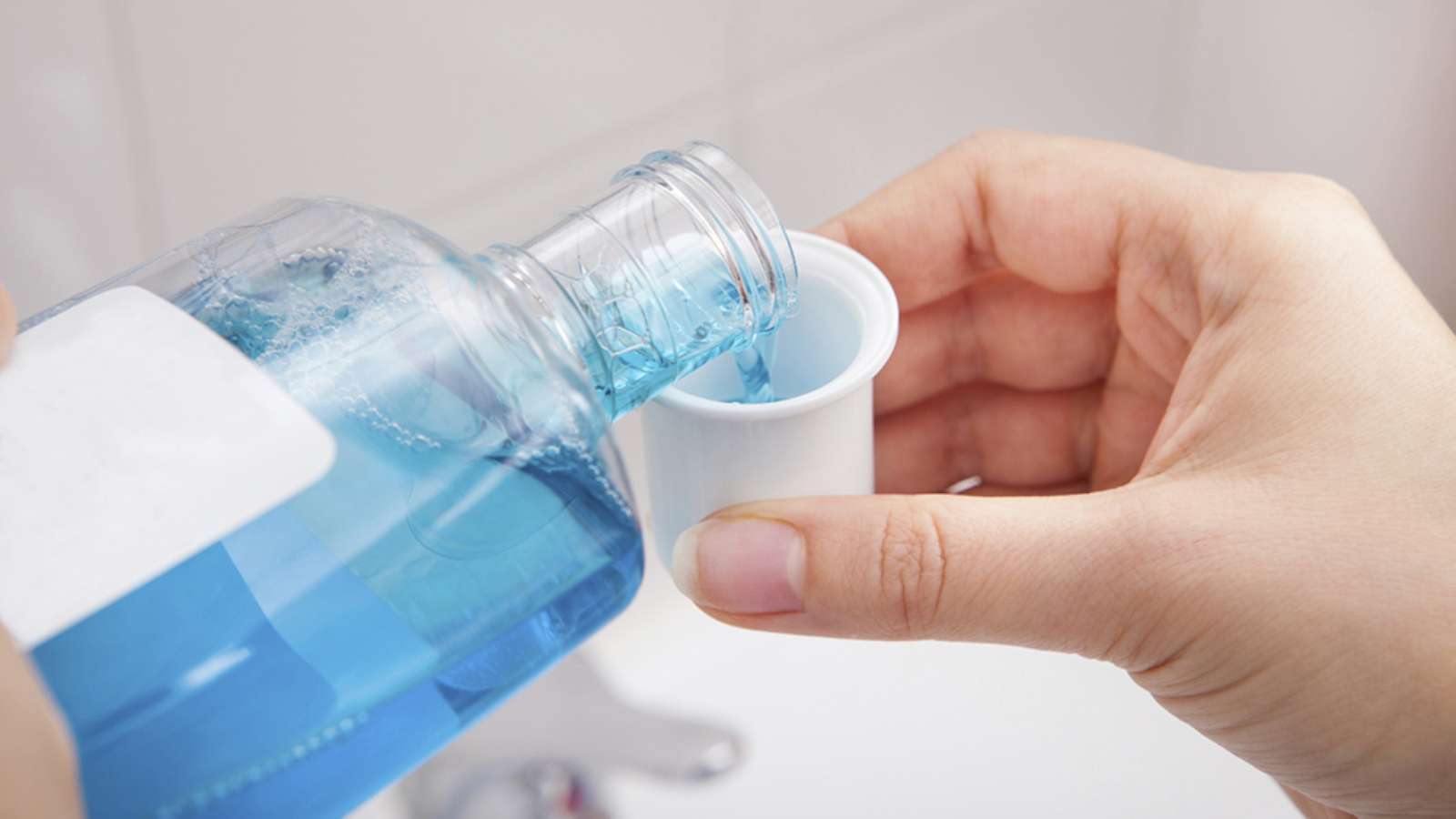 Why Should You Trust Us?
The mouthwashes which we chose for bad breath are some of the most popular choices because of their quality, affordability, and unique features. We also recommend products that have the ADA seal of acceptance.

Our team includes a dental surgeon who reviews and writes valuable information about dental health issues and products.

These mouthwashes are effective and reliable, and we only recommend them to our readers who we think are confident and will significantly contribute to their oral health.

How Do We Choose Our Products?

For mouthwash selection, it's tough to know where to start.

We know how it feels not to get the correct information and get overwhelmed with all the chaos on the internet.

That's why we've put together a list of mouthwashes to help you choose the best mouthwashes for your bad breath.

Our focus is on providing the best possible dental care advice to readers.

The mouthwashes mentioned here are based on customer feedback and features.

We have researched several mouthwashes and picked the top eight because they provide the best result.

Each mouthwash offers a diverse range of features to meet your needs.

The 8 Best Mouthwashes for Bad Breath

Kinds of Mouthwash

Mouthwashes are of various types. Among them are mouthwashes which contain the following ingredients:

Fluoride
Fluoride mouthwashes help keep teeth healthy by thwarting the development of cavities.

Using fluoride toothpaste with fluoride mouthwash may provide you with more fluoride than its daily recommendation.

Alcohol
Therapeutic mouthwashes that include alcohol inhibit bacterial growth.

It can assist with halitosis and other oral infections.

It can kill microorganisms and improve your breath, but it might stain your teeth if used too often.

Whitening Agents
Mouthwash used to whiten teeth disguises foul odor from the mouth, similar to cosmetics that conceal blemishes.

It doesn't accomplish much else, and it doesn't last very long.

Natural Substances
This mouthwash takes a holistic approach.

These mouthwashes are alcohol-free and contain safer ingredients than those in other mouthwashes.

Made for Dry Mouth
Having a dry mouth is terrible for your oral health.

You may find a variety of mouthwashes that keep your mouth moist and help prevent tooth decay.

The Best Way to Choose a Mouthwash
When selecting a mouthwash or rinse, it is important to keep these factors in mind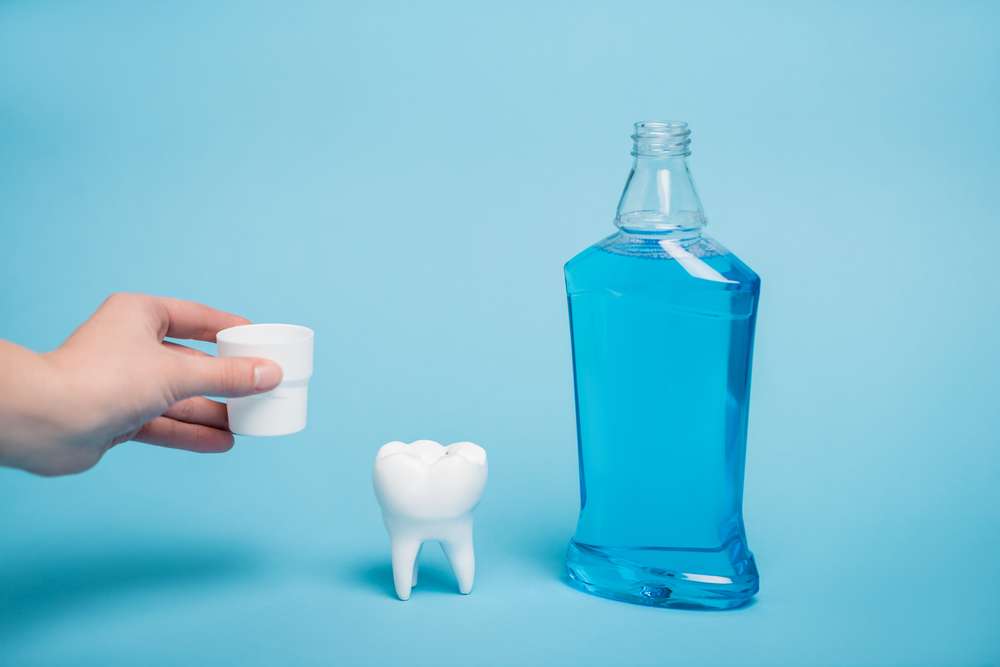 Presence of Alcohol
Many mouthwash or rinses include alcohol, which can be harmful in large doses.

If you're looking for mouthwash for the complete family and have children of school age or a teenager, look into the mouthwash free from alcohol.

Because of the risk of addiction, few alcoholics in recovery use alcohol-free mouthwash.
Issues of Sensitivity
Few individuals, especially those with hypersensitive gums, may find the chemicals in mouthwash unpleasant.

Also, those who don't usually have hypersensitive gums may notice that their mouths are more sensitive for a brief period after a dental operation.

Consider using a mouthwash free from alcohol or natural ingredients in your dental care routine.

Chamomile and Aloe vera are common constituents in natural mouthwashes because they are calming.
Anti-plaque Property
Look for an anti-plaque ingredient in mouthwash to freshen your breath and prevent tartar buildup on your teeth.

Discuss the best mouthwash for you with your dentis
Benefits of Mouthwash
Mouthwash helps in the prevention of gingivitis.

Mouthwash helps reduce gum disease. Bacterial plaque creates acids that irritate the gums when they remain on your teeth for long periods. Gingivitis, the initial stage of gum disease, develops because of this. By rinsing with mouthwash and brushing your teeth, you can destroy the germs that could cause gum diseases.

It aids in the reduction of foul breath. A fluoride rinse is also an excellent technique for avoiding cavities. It remineralizes and strengthens teeth, which helps in preventing decay. While mouthwash may not erase halitosis, it can lessen it momentarily. After a thorough brush and floss, this mouthwash aids in destroying pathogens responsible for halitosis.
Other Considerations
For a mouthwash to get the approval-seal from ADA, the American Dental Association council evaluates mouthwash for its safety and effectiveness.

A manufacturer gets the ADA Seal for mouth rinse by providing scientific proof showing the safety and effectiveness of its product, which is evaluated based on the requirements set by ADA.

When looking for a good mouthwash, look for one with the approval-seal from the ADA.
Purpose of Mouthwash
Mouthwash has a purpose other than producing minty fresh breath. The following are the most prevalent reasons individuals use mouthwash:
It prevents tooth decay by using a fluoride product.

By eradicating bacteria to avoid gum inflammation.
Using a bleaching product to whiten discolored tooth surfaces.
Using an antiseptic or anti-plaque substance to prevent gum and periodontal disease.
Safety Tips
Alcohol and fluoride are common ingredients in mouthwash. Youngsters should not consume these substances in large quantities. Therefore, the American Dental Association does not recommend it for children under six years
Adults should not ingest mouthwash.

Use mouthwash to prevent infection and speed healing of any open sores or oral lesions. But if you have recurring oral lesions, talk to your dentist before using an oral rinse.
It might cause oral ulcers for certain underlying health conditions, and treating them with fluoride and antiseptics may do more harm.
Final Verdict
Our Choice

Philips Sonicare Rx Antibacterial Mouthwash
This mouthwash contains Cetylpyridinium chloride, which helps in reducing plaque and gingivitis.

It also contains Zytex, which is the combination of zinc and a few essential oils (thymol and eucalyptus oil), which eliminates sulfur-producing bacteria responsible for bad breath.
Check Price on Walmart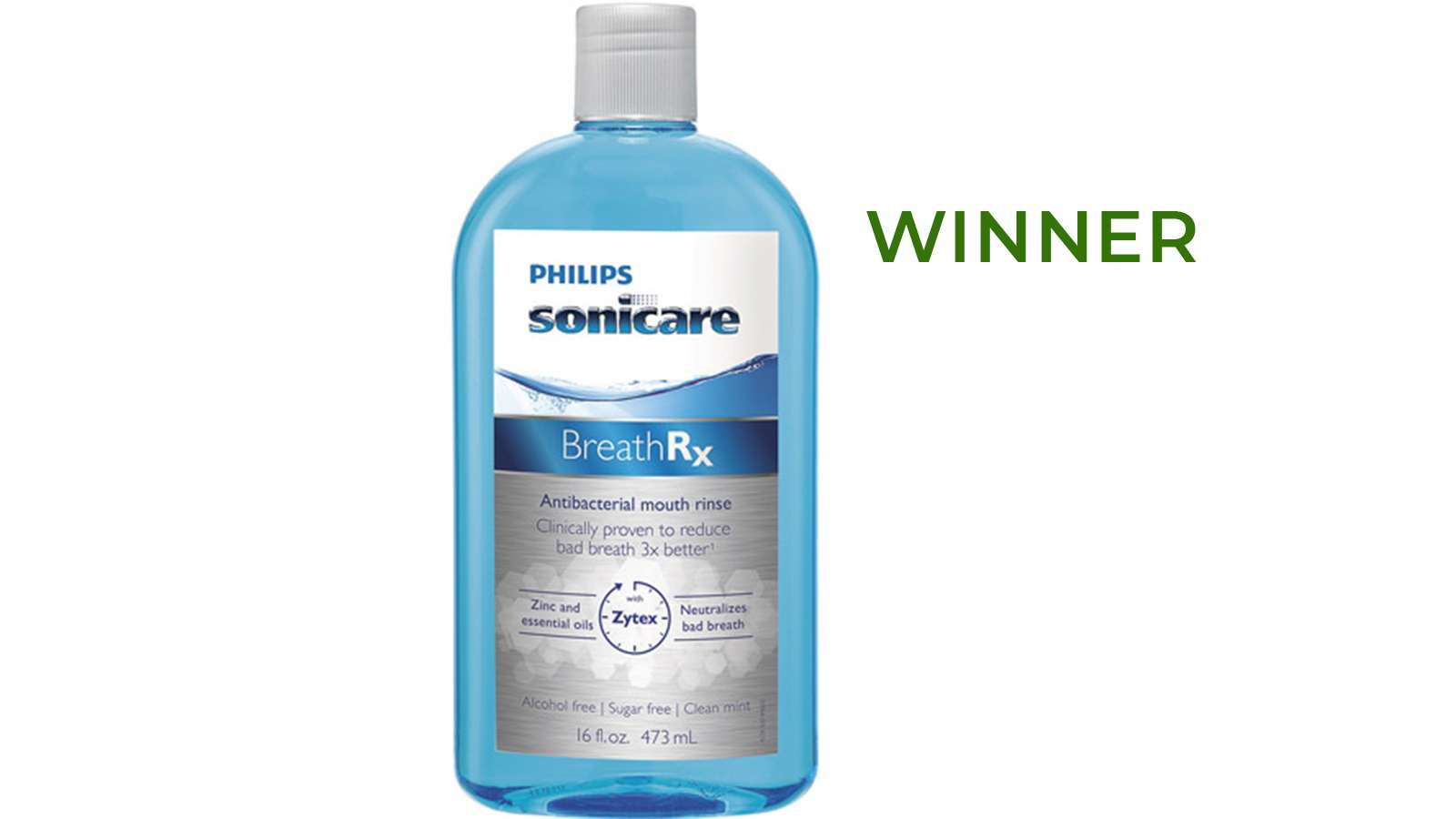 Runner Up

TheraBreath Fresh Breath Oral Rinse
This mouthwash has sodium chlorite, which helps to destroy bacteria responsible for bad breath.

This mouthwash contains no alcohol and harsh additives, making it safer to use, and it's also ADA-approved.
Check Price on Walmart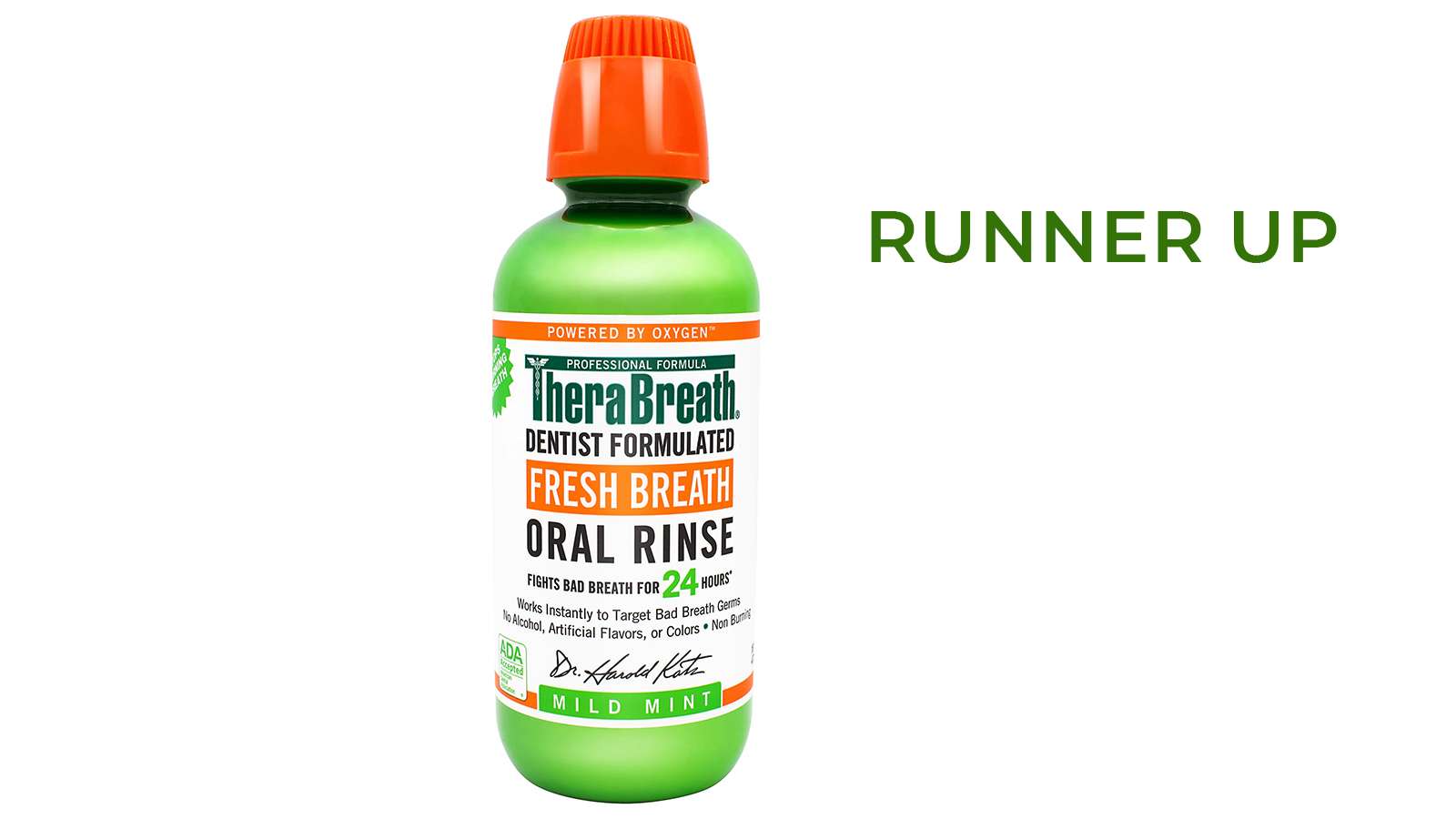 Conclusion
There's no mouthwash that can entirely eliminate bad breath.

However, by following a few simple hygiene tips, you can significantly reduce the risk of tooth decay and improve your breath.

Brush and floss your teeth daily, and select a mouthwash that will help you fight bad breath.

Aside from brushing and flossing, consume lots of water and avoid smoking and alcohol.

Finally, if bad breath is still a problem after following these tips, consult with a dentist to seek professional advice and treatment.