Best Philips Sonicare Toothbrushes
Whether you're looking for a new toothbrush for your oral hygiene routine, or you just want to brush your teeth more effectively and efficiently, you've come to the right place.

We'll discuss some of the key features that each Sonicare toothbrush offers so that you can make an informed choice.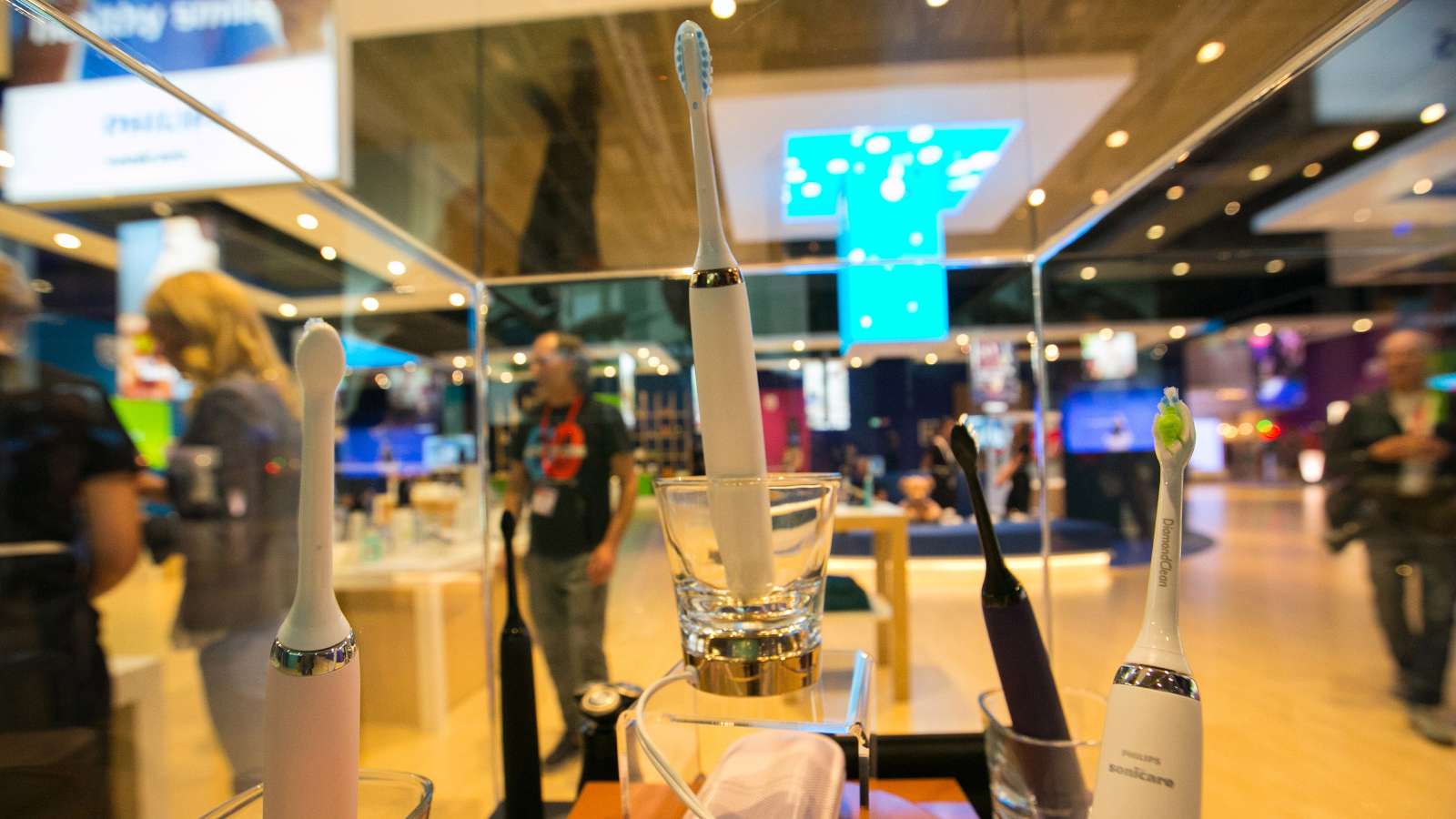 Why Should You Trust Us?
The Sonicare toothbrushes that we chose are some of the most popular choices because of their quality, affordability, and unique features.

We also recommend products that have the ADA seal of acceptance.

Our team includes a dental surgeon who reviews and writes valuable information about dental health issues and products.

These Sonicare toothbrushes are effective and reliable, and we only recommend them to our readers who we think are confident and will significantly contribute to their oral health.

How Do We Choose Our Products?

For toothbrush selection, it's tough to know where to start.

We know how it feels not to get the correct information and get overwhelmed with all the chaos on the internet.

That's why we've put together a list of Sonicare toothbrushes to help you choose the best Philips Sonicare toothbrush for your needs.

Our focus is on providing the best possible dental care advice to readers.

The Sonicare toothbrushes mentioned here are based on customer feedback and features.

We have researched several models and picked the top five because they provide the best result.

Each model offers a diverse range of features to meet your needs.

The 5 Best Philips Sonicare Toothbrushes

Common Features in Most Sonicare Toothbrushes
2-minute timer

The 2-timer gets activated after we switch the toothbrush on and it also automatically turns off after 2-minutes. This timer ensures users brush their teeth according to the ADA recommended brushing time.
QuadPacer
Our teeth include four quadrants. Each quadrant of teeth includes 8 kinds of teeth. Quadpacer alerts the user every 30 seconds so that users could move toward the next quadrant.
Pressure Sensor
This includes visible and audible types. Each of these provides the same function. It functions by alerting the user when excessive pressure exerts on teeth and gums.

BrushSync Reminder
This feature alerts the user to replace their brush heads when their use is no longer beneficial.

Sonicare Toothbrushes: Core Functions
There are two mechanisms responsible for a Sonicare toothbrush to function.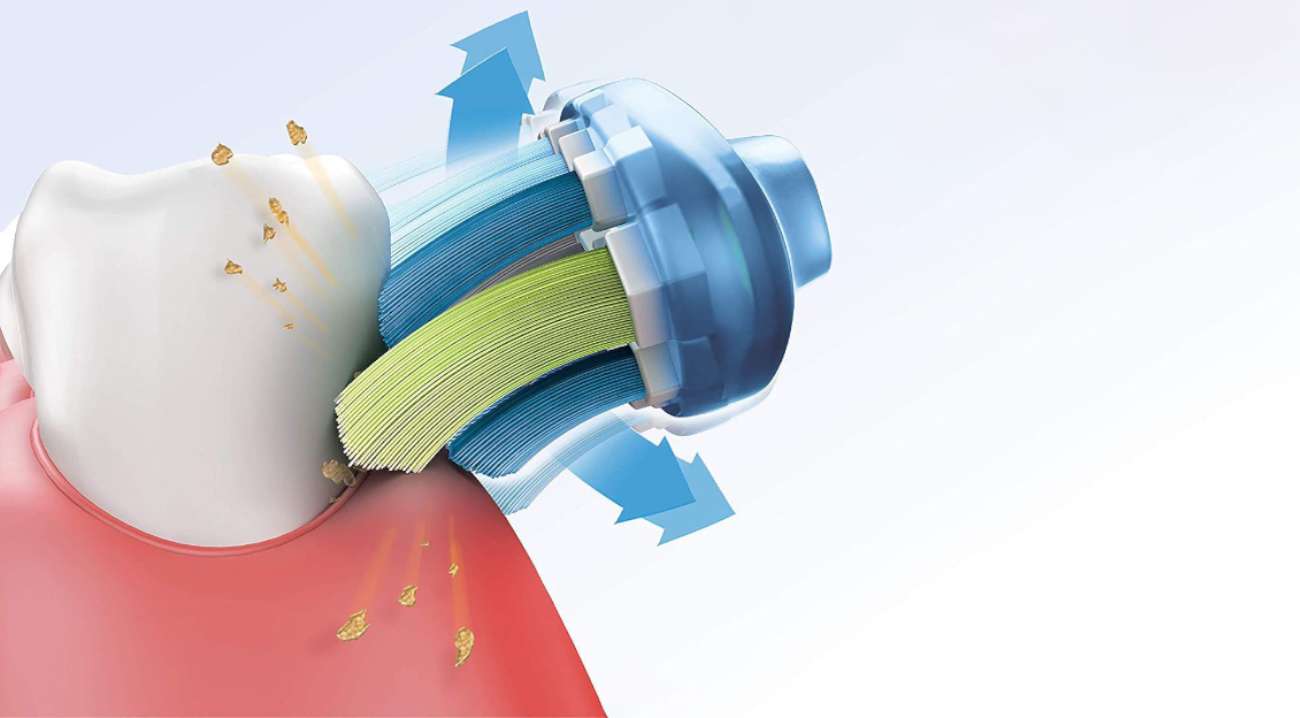 Mechanical Scrubbing
Sonicare toothbrushes use sonic technology to remove plaque and food particles from the teeth.

It can also reach hard-to-reach places to remove any food particles, which is impossible with a manual toothbrush.
Fluid Dynamics
Although fluid dynamics are secondary to cleaning, they are what set the Sonicare toothbrush apart.

The vibratory action of the toothbrush's bristle displaces fluids from the tooth surfaces by using the mechanism of fluid dynamics.

Its beat is so strong that it removes plaque faster than brush bristles alone.

Sonicare vs. General Electric Toothbrush
Brushing Capabilities
Compared to manual toothbrushes, electric and sonic toothbrushes provide better brushing power.

The brushstroke rate of a general electric toothbrush is between 2,500 and 7,000 per minute, while the brushstroke rate of a Sonicare toothbrush is 31,000 per minute.

Cleaning Technique
The sonic toothbrush is better at cleaning teeth than the electric toothbrush.

Bristles on electric toothbrushes scrub forward and backward or rotate.

A sonic toothbrush uses high-velocity speeds and high-frequency sound waves to eliminate plaque from your teeth surfaces.

The sonic waves of this toothbrush can move hard-to-reach places to remove any food particles accumulated on the teeth surfaces and gum line.

Comfort
Both brushes are easy to use, depending on what you seek.

On the one hand, electric toothbrushes have easy-to-use controls, a rechargeable battery, and are portable.

Nearly all electric toothbrushes come equipped with a timer to ensure that you brush for the recommended two minutes.

To begin with, using a sonic toothbrush require little effort, making it ideal for people with restricted movement.

Like the electric toothbrush, sonic toothbrushes include a convenient two-minute timer.

Some sonic toothbrushes have extra functions like Bluetooth, which cross the boundaries between "superior brushing experience" to "complicated."

Cost
Great brushing power comes at a high price.

Compared to the simpler electric toothbrush, sonic toothbrushes are pretty costly.

Frequently Asked Questions

When should I replace my toothbrush's head?

Most dentists advise to replace toothbrush's head every three months. As soon as the bristles fray, the time for replacing toothbrush's head becomes mandatory.

What features should be included in an excellent Sonicare toothbrush, specifically the heads and handles?

In terms of brush heads, they should have a built-in BrushSync technology. BrushSync technology comprises a function that sends a notification to users to change their brush heads when their use is no longer helpful. Not all Sonicare toothbrushes have this feature. But you can buy an excellent Sonicare toothbrush with BrushSync technology by looking at the Wi-Fi symbol below the brush heads.

The handle should be water-resistant, easy to hold, and convenient to travel.

How do I choose a Sonicare toothbrush?

Almost every Sonicare toothbrushes have the same feature. However, there are some factors to consider while purchasing Sonicare toothbrushes. Before buying a Sonicare toothbrush, check the battery life, voltage type, price of brush heads, noise, warranty period, and a travel case.
Why do people think Sonicare is the best electric toothbrush?

Sonicare toothbrushes are the best electric toothbrush because they use sonic technology to break down plaque and food particles between the teeth with brush strokes of 31,000 per minute. Sonicare toothbrushes allow various brush heads developed only for certain users to achieve the best brushing results. It helps to keep the oral cavity healthier for a more extended period.

How long does a Sonicare toothbrush last?

Consumers reported that most Sonicare toothbrushes lasted from 2 to 5 years. However, it all depends on proper handling, frequency of usage, and overcharging of the battery. It also comes with a two-year warranty, so you can always replace it if something goes wrong during the warranty period.

How do I know when my Philips Sonicare toothbrush is fully charged?

This toothbrush has a battery indicator that displays the remaining power in the toothbrush's battery. Simply check the handle for a battery level sign to determine the toothbrush's battery status.

Why is my Sonicare toothbrush buzzing on during charging?

After placing the Sonicare toothbrush on the charging stand, Sonicare toothbrushes usually make a buzzing or beeping sound. The toothbrush placement on the charging stand ensures the toothbrush is charging.

How long does a Philips Sonicare toothbrush take to charge?

Philips Sonicare toothbrushes require 24 hours to charge. Always charge your toothbrush between uses to avoid a dead battery.

Final Verdict
Our Choice

Sonicare DiamondClean Smart 9700
Here are the reasons to choose it:

1. The five different cleaning modes of this toothbrush allow for thorough cleaning of the entire mouth.

2. It has seven high-quality brush heads and a tongue cleaner that connect to the right brushing mode automatically.

3. Stunning aesthetics should entice you to make a purchase.

4. The best part about this toothbrush is that you won't have to buy replacement heads for a long time, and everyone in your family can use it without worrying about sharing.

The only thing we dislike is its high price tag. But overall, it is a good toothbrush.
Check Price on Walmart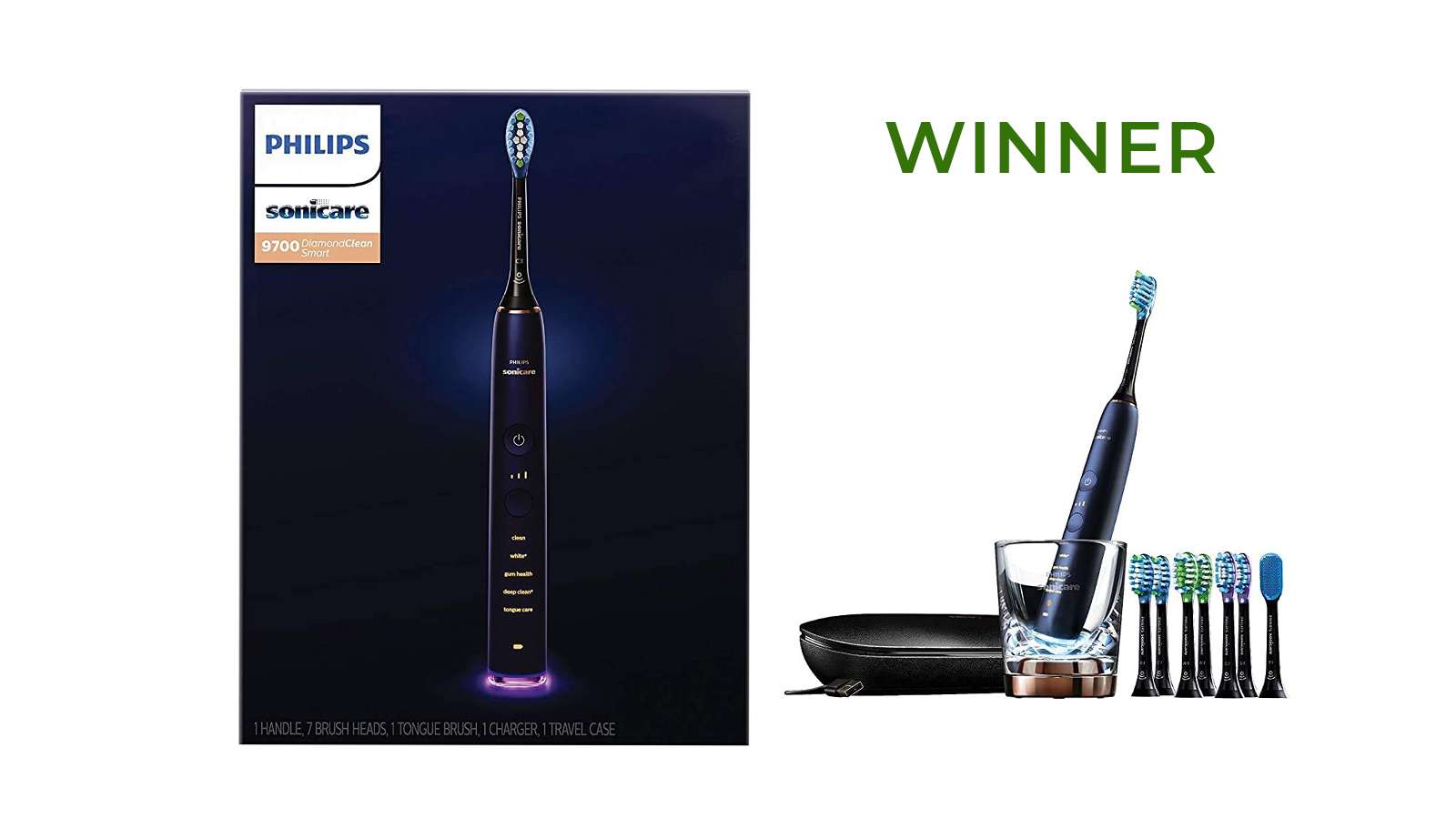 Runner Up

ProtectiveClean 4100
In comparison to other toothbrushes, its simplicity of use and low price make it the second-best option.

This toothbrush has got one cleaning mode which does the most work for cleaning.

The only thing I dislike is that it comes with one brush head, so you need to purchase another brush head after every 3-4 months or even longer, if you are not a frequent brusher.

So if you are on a low budget and want a Sonicare toothbrush for your oral needs, then this toothbrush is the best option.
Check Price on Walmart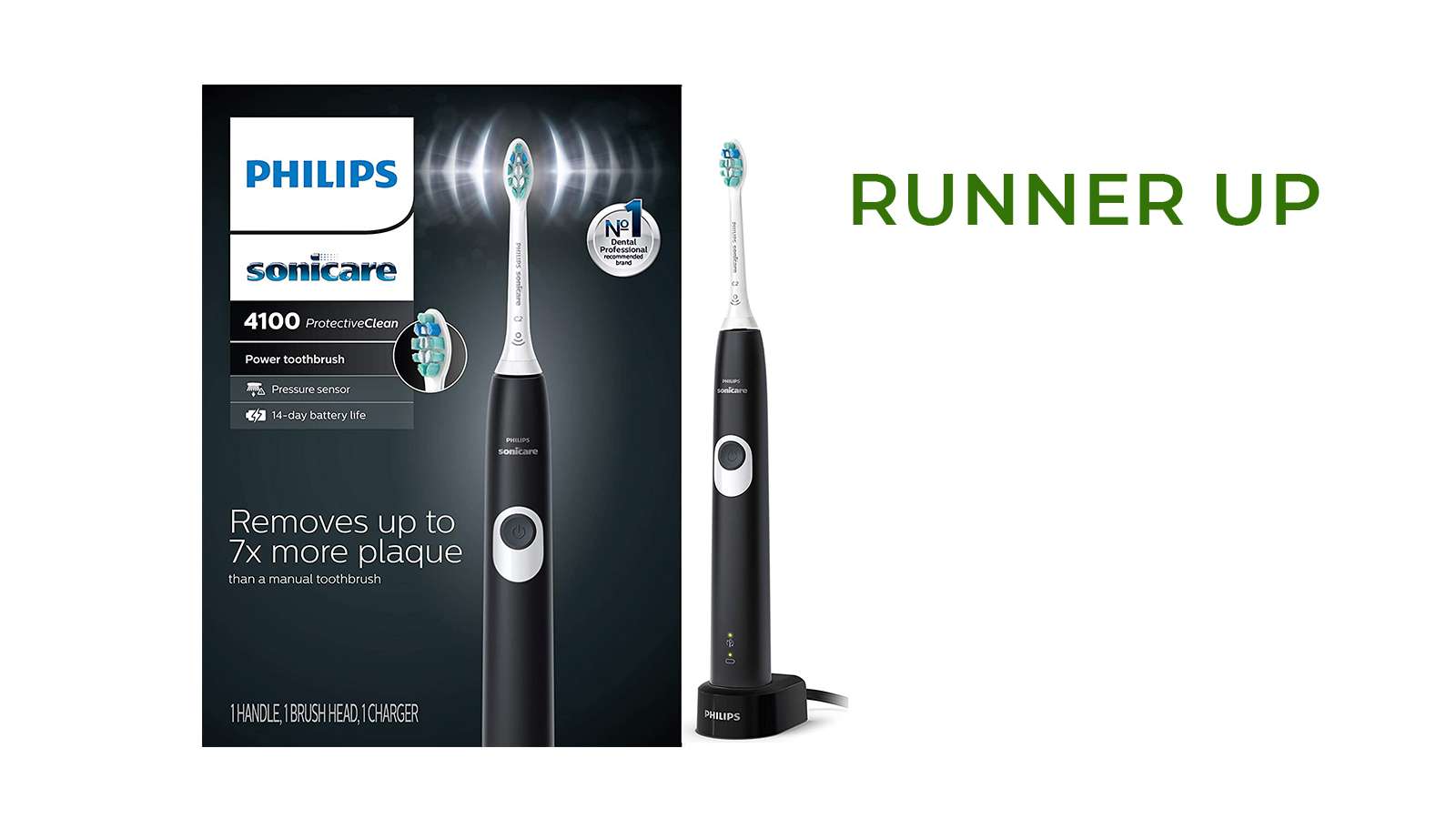 Conclusion
We recommend you choose the Sonicare toothbrush based on its features and its pros and cons.

If you're looking for high-quality dental care, you can't go wrong with Philips Sonicare toothbrushes. The built-in timer is one of the prominent features. It allows you to brush for the recommended two minutes daily, which is essential for achieving good oral hygiene.

So whether you're looking to avoid plaque and tartar build-up or want to ensure you don't end up in the dental clinic with a cavity, Philips Sonicare toothbrushes are a perfect choice.

Remember to read the product reviews before purchasing to get a more comprehensive view of what other people think about the toothbrush.